Experience the heart of Australia's food bowl, stopping at regional towns and attractions throughout the Riverina. Discover acclaimed wines, taste superb fresh produce and explore spectacular natural scenery.
2022 Departure Dates: 28 August & 25 September.

2023 Departure Dates: 2 April.
5 days plus 4 nights experience aboard the Aurora Australis the newly restored, iconic 1960's ex-Southern Aurora Sleeping Train travelling along rail lines normally closed to the public.
Sleep onboard in your own cabin, 10 meals, off-train excursions, 'Aurora Explorer' shuttle bus.
Unpack only once and enjoy everything that slow rail touring provides.
Tour Highlights include:

Stunning sea views from the Illawarra Railway Line.
Explore the sights and historic offerings of Australia's oldest inland city, Goulburn.
Coolamon Cheese Factory.
Piccolo Farm.
Emeri De Bortoli's Private Garden.
Temora Rural Museum and Ambulance Museum.
Enjoy the vibrant Blue Mountains Villages in your own time and see the majestic Three Sisters.
Itinerary subject to change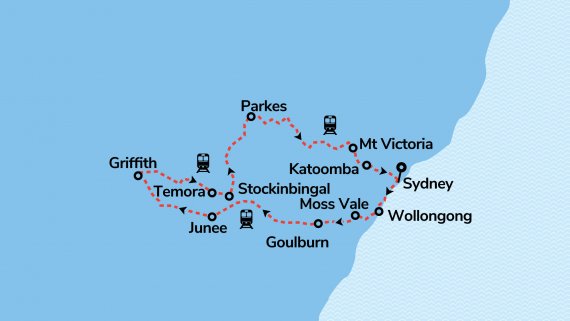 Sights Along the Way
A quick preview of the exciting travel highlights you'll have to look forward to!
Book / Enquire Now
Note: Itinerary is subject to change when there are circumstances beyond our control. 
There are minimum numbers required to guaranteed departure.

Why choose us for your holiday?

Unique & Exclusive Products
At Holidays of Australia and the World, our objective is to be an industry leader in providing unique, personalised holiday itineraries to our clients and delivering exceptional customer service

Rail & Cruise Experts
We don't chase awards, but we are one of Australia's most awarded and respected travel groups giving our customers the security and peace of mind that come from dealing with a well established business.

100% Australian Owned
We've built our successful brand on six vital brand pillars. They're crucial to our ongoing success and everyone at Holidays of Australia & the World know that these pillars are absolutely non-negotiable.