At Holidays of Australia & the World, our clients are our absolute priority. It's our goal to have happy and returning clients who travel with us time and time again. That's why our motto is Clients for Life.
We are one of Australia's most awarded and respected travel groups giving our customers the security and peace of mind that come from dealing with a well established, family-owned and operated business. We always greatly value our clients feedback as we strive to provide the best service possible.
" We were very impressed with Holidays of Australia - they did everything they said they would do at the time they said they would do it. Their organization was excellent, but you never felt that things were rushed. "
- Maureen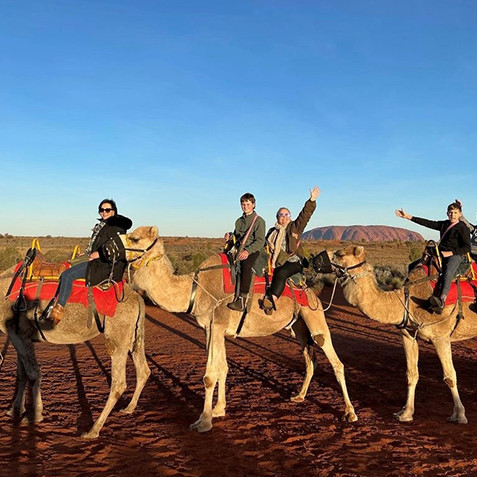 " Thank you for the great arrangements you put in place for the recent trip I did… Everything worked out splendidly. The Indian Pacific trip was really excellent. "

- Alison
" Thank you for the well planned itinerary that you prepared for my wife and myself. Everything happened exactly as you planned. "

- Joseph & Carmen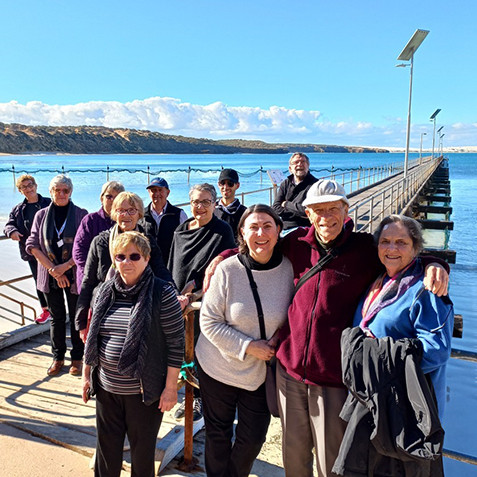 " My husband and I did the trip to Perth on Radiance of the Seas and The Indian Pacific to Sydney. It was great your planning was superb. I have sung your praises to all our friends. "
- Pamela & Roger
" Thanks Kenn your work and skill in getting it sorted was very much appreciated by all. "

- Tony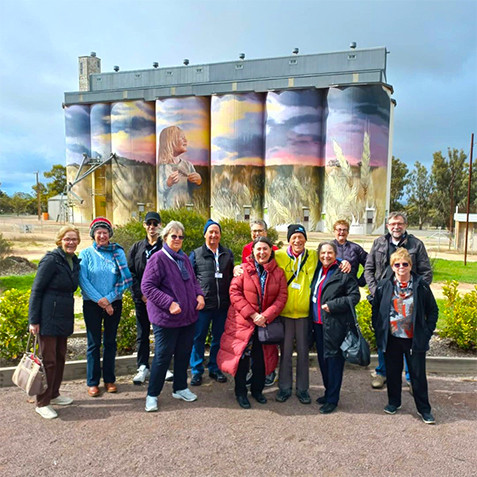 " We would like to thank your Company & particularly Kenn Ortzen-Bario for organising this amazing trip for us. It all worked perfectly & it was a pleasure dealing with Kenn who responded to our initial enquiries immediately & nothing was a trouble for him "

- Max & Mareena
" We say a very big thank you for your assistance in making the bookings – airlines, hotel in Fremantle included – which all just fell into place. Your assistance was, and still is, very much appreciated. "
- Sue & Neil
" Thank you for making a dream come true. I enjoyed every day! Value for money and an excellent tour. "
- Monica
" I am recommending this holiday to all my friends. Thank you. "
- Raelene
" Never been to Norfolk Island - No hassle booking & we didn't have to do any research ourselves. Thoroughly enjoyed the whole trip! "
- Dianne & Barry
" Would do another with Holidays of Australia & would recommend to other people as well! "
- Sandra
" Excellent tour & loved Kangaroo Island. "
- Robyn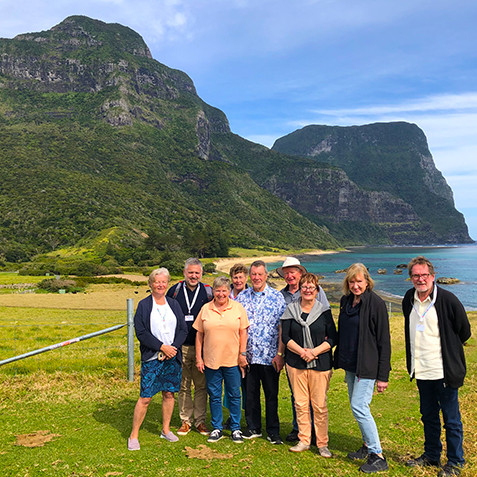 " Most enjoyable - Will recommend! "
- Di
" I would have no hesitation in recommending this tour & your company to family & friends. A great way to see Kangaroo Island. "
- Jan
" We had a fantastic time! Everyone got on so well and we had so many laughs. "
- Graeme & Ellen
" Well done Holidays of Australia. Makes one proud of our country. We were pleased to give some support to KI after the island has had such a rough time. "
- Jill & Art
" Hi Pip, Thanks for organising a great holiday for us. Everything went like clockwork (just the way I like it -no stress). We had a very enjoyable time and saw some new territory in our beautiful land. Very pleased to have met you in person. Once again thanks for your involvement. You did a great job for us. "
- John & Margaret
" Fabulous, memorable experience. Ticked every box! "
- Anthony
" Small group touring is the best. "
- Michael & Juliet
" A wonderful holiday with great memories and a wonderful tour host "
- Marian
" We will definitely be interested in other holiday deals with Holidays of Australia! "
- Carmela
" We found nothing to complain about all through the tour "
- Steve & Christine
" Happy New Year. I hope your trip went well and look forward to hearing all about it. Thailand was brilliant, managed perfect weather with virtually no rain which helped. All of the accommodation and transfers worked brilliantly and I have been singing your praises to anyone who asks about travelling in Thailand. The transfer company Buffalo tours were particularly good, luxurious vehicles, always on time and good for a map and some local information, all really helped for a hassle free holiday. "
- Catherine
" Had a great time, met so many lovely people. could not believe how many people booked through your office as we all had our lanyards on. We drove past your office on a tour of Adelaide but not enough time to call in in to meet you. Maybe one day. Thank you again the trip was so well organised. "
- Joe & Lyn
" Hi Samantha, Just wanted to drop you a line to say thank you for all you did in making my holiday as memorable as it was. Everything went smoothly from beginning to end and I had a fabulous time. New York the Queen Mary2 and London for Chelsea absolutely magic. Thanks again for all your help. Cheers! "
- Sharyn
" Hi Samantha, We have just returned from our trip and would like to let you know that it was a wonderful experience that we both thoroughly enjoyed. Thank you for your excellent organisation - everything went so smoothly and to schedule. We were treated like VIPs in all situations. Thank you so much for preparing such an enjoyable and much-needed holiday for us. I would be happy to recommend Holidays of Australia to anyone. "
- Ian and Elizabeth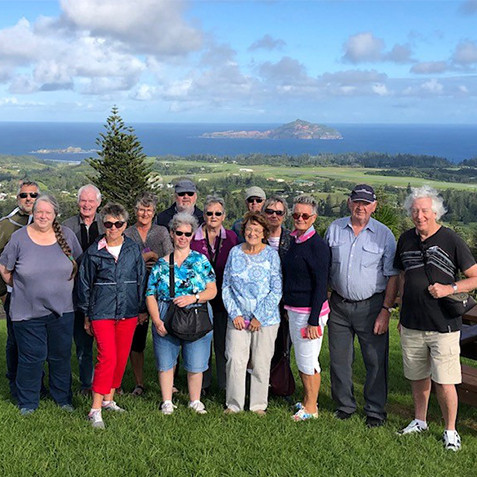 " Hi Kenn, Thanks for the opportunity to experience this great value holiday. The trip was very good. Really enjoyed the Ghan and excursions. Even though we had travelled this area by bus over 10 years ago we did different excursions. Helicopter ride over Katherine Gorge, BBQ under the stars in Alice Springs and lunch in a cave in Coober Pedy and a visit to The Breakaways were the highlights. "
- Noreen & Ray
" Thanks to the team at Holidays of Australia & the World for organising our short cruise on Queen Mary 2 from Adelaide , the only problem it wasn't long enough. "
- Liz
" The Queen Mary 2 experience was beyond our expectations from the moment we walked on-board. Thanks to the team at Holidays of Australia & the World for organising this once in a lifetime trip. "
- Carolina
 " Everything was well organized, thank you very much Georgia for all your hard work behind the scenes. "
- Jan & Christine
" We would like to say a big thank you, my husband and I have just returned from our Ghan/Sea Princess trip, what a wonderful time we had. Thank you for providing us with the best tour guide Ivan Ritani, he went out of his way to make sure we all got the very best out of our trip. We will certainly be keeping an eye out for any other trips he will be taking. Once again thank you. "
- Marion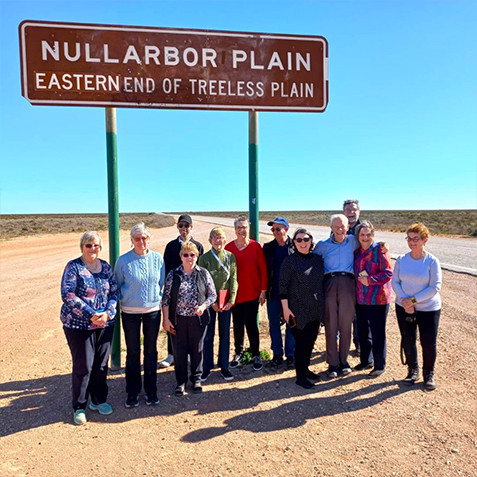 " Thank you for helping us with our recent SA holiday. We had a fabulous time, and enjoyed the diversity of what we did. Overall we had a great time away, ate lots, had some quality wines, and met lots of people. "
- Geoffrey
" The whole holiday, with its shore trips and off train experiences, plus transfers all went seamlessly. The transfers offered in this package and the operators were most professional, friendly and helpful, making our holiday just delightful. "
- Julie and Allen
" We just returned from our Radiance/Ghan holiday and we had a great trip thanks to you. Everything fell into place and went like clockwork. There was not a single issue/problem. The Ghan was the highlight for us. "
- Doug
" We have just arrived back from our Western Australia Wanderer Holiday and would like to thank you for all you did for us. We have been on many holidays both in Australia and overseas and I don't think that any other holiday has been so well arranged. We would not hesitate to book other holidays with you. Thank you. "
- Janet & Ashley
" To the staff, I've just travelled the Ghan Expedition, and I want to thank you for the wonderful trip my friend and I experienced. We did not have one hiccup in our travels. All arrangements ran like clock work, this can make or break your well earned holiday, so please pass on my thank you to your staff. "
- Judy
" Thanks for your efforts in organising a very wonderful holiday. "
- Mick
" Just wanted to thank you for all your help with our recent Murray River cruise holiday. We had a great bunch of shipmates and had lots of laughs. I will certainly be recommending this trip to our family and friends and also recommending they use Short Breaks Australia. "
- Sandra & Ian
" We could not believe how everything that was organised ran to plan, no delays, no changes, no hiccups, and nothing was rushed. We both can't say enough great things about this holiday, we will be talking about it for years to come. We would recommend this trip to anyone. "
- Bill and Irene
" Thank you sincerely for organising our recent holiday on the Sea Princess and the Ghan. Everything flowed so well, no troubles with tickets, smooth transfers and side trips all the way… we will remember Short Breaks and you for future travel. "
- Christine
" Thank you very much for the organisation of our trip… everything went so smooth, all our accommodation transfers and cruise were the best ever. Will be looking out for more trips with Holidays of Australia. Thank you and your company again. "
- Kathy & Bob
" My husband and I did the trip to Perth on Radiance of the Seas and The Indian Pacific to Sydney. It was great your planning was superb. I have sung your praises to all our friends. "
- Pamela & Roger
" It was not a planned destination for us but, has been truly wonderful, informative, beautiful & fun! We will return." - Patricia & Erik "The tour host was knowledgeable, friendly and integrated with the guests a lot. All of the tours have a good insight to the island, people & history. "
- Anthony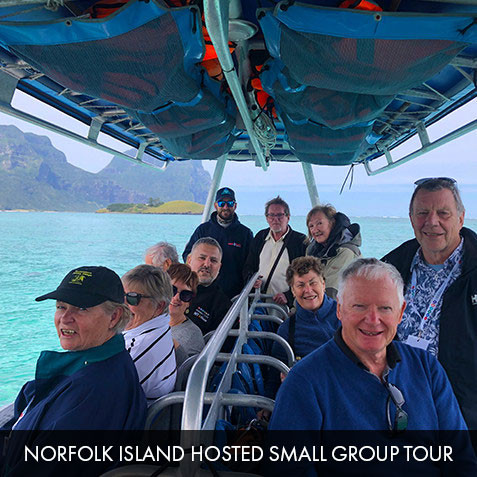 " This is the first trip tour where I found that everyone gelled. We were able to mix all other participants as the group numbered 18; we supported each other and had lots of fun. No one was ever late to arrive at the appointment times & we really appreciated June's leadership. "
- Elizabeth
" Thank you for a great, a truly memorable holiday. Also thanks to Hayley Cornish in Adelaide office who helped organise on trip. It was great that we were able to adapt/add on to the trip to meet on needs rather than some companies that offered a one size fits all/take it or leave it!!"
- Jennifer Leete
" Appreciate excellent customer care, easy payment options and accompaniment of lovely host! "
- Ash & Renu
" It gives the "Ghan" train experience combined with the journey to Uluru and Kata Tjuta giving value for the overall cost and time."
- Diane
" Tour has exceeded my expectations. "
- Kerry
" We really enjoyed all aspects of the holiday & would happily recommend."
- Susan & Richard
" This trip has been the best especially having Bruna & her husband looking after us. Their language translation was invaluable on our trip.Without Bruna helping understand the language we would have struggled."
- Sheryl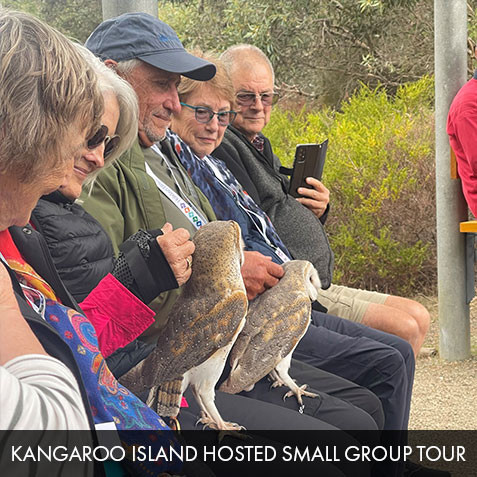 " This was a great tour of K. Island. There was plenty of daily tours included in the package which were interesting & enjoyable. Our tour group were friendly and we all had a great time together. Everywhere we visited was very interesting and the guides were very informative"
- Marylyn