The Ghan
Over 2979 unforgettable kilometres between Adelaide and Darwin, The Ghan glides through one of the most remote, beautiful and fascinating landscapes in the world, giving you access in deluxe comfort, to parts of Australia that no other holiday can offer.
You will follow the path of ancient indigenous tribes, camel convoys and the bravest of inland explorers. And what captivated them will undoubtedly also fascinate you - for this 150 million year old landscape, time has not diminished its incredible beauty.
The Ghan's journey takes three unforgettable days and two nights while the brand new Ghan Expedition gives you more time to enjoy Australia – four days and three nights, conveniently travelling overnight so you experience more first hand discoveries. Read More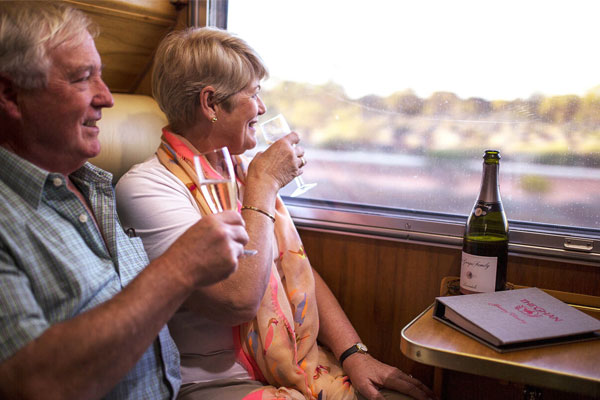 History of The Ghan

The legendary Ghan's first ever journey departed from Adelaide Railway Station on August 4, 1929 with 100 passengers onboard. They were bound for the remote town of Stuart, later renamed Alice Springs. Two days later, the train's whistle pierced the eerie silence of the MacDonnell Ranges that surround Alice Springs.

The Ghan was used to transport servicemen throughout World War II with as many as 247 trains running per week during 1944. It also played an important part in opening up the remote Central Australia by transporting crucial supplies for mining, transport and agriculture.

Then in 2001, 90 years after the promise of transcontinental rail linking Adelaide, Alice Springs and Darwin, work began on the 1420km gap between Alice and Darwin. The first Ghan departed Adelaide on February 1, 2004 with 43 carriages measuring over 1 kilometre long, bound for Darwin.
Gold Service




With room to stretch out and all the luxury comforts, Gold Service is The Ghan's most popular service where the Outback Explorer Lounge and the Queen Adelaide Restaurant become your playgrounds on wheels.  Share travel tales and make new friends in the Lounge and then enjoy all-inclusive dining complete with Australian wines, beers and beverages in the Restaurant next door.
Then when you're ready for some quiet time, retreat to your comfortable private sleeper cabin with ensuite.  In Gold Twin the three-seater day lounge converts to upper and lower berths for a comfortable night's sleep. While in Gold Single, a compact sleeper cabin featuring a bed that converts to a seat by day and shared shower/toilet facilities are located at the end of the carriage.

Platinum Service




Platinum Service is the ultimate all-inclusive indulgence, that elevates this world class journey to well beyond expectations. It's luxury all the way including deluxe extras such as Platinum Transfers, in-cabin breakfasts and access to the Platinum Club and Outback Explorer Lounge.

Your ultra spacious Platinum cabins (almost twice the size of a Gold Twin Cabin) features a deluxe private lounge with a table and two ottomans. At night, your cabin ingeniously converts into a comfortable bedroom with either a double bed or twin beds. Your ensuite with shower and toilet is packed with features including complimentary premium Australian toiletries.

Lounge and Dining


The Queen Adelaide Restaurant is old world ambience blended with an all-inclusive mouth-watering seasonal menu prepared by on board chefs from hearty breakfasts, two-course lunches and three-course dinners. Meals are complemented by a selection of included wines and beverages with some dietary meals available by request at the time of booking. Décor is art deco and a comforting celebration of the golden era and romance of train travel, available to all guests.  
The Platinum Club is another exclusive addition only available to Platinum Service guests and features a deluxe bar, lounge and fully flexible dining area with furnishings and fittings that embody the train's Australian heritage. The Club provides a menu that truly showcases the finest regional food coupled with first class service.
Indulge in hearty breakfasts, two-course lunches and four-course dinners with the choice between Top End barramundi, locally farmed beef and lamb, superb Margaret River cheese, gourmet Barossa Valley small goods and plenty of native Australian foods including Kangaroo, saltbush and wild rosella flower. All these delicious meals are complemented with a range of all-inclusive wines of the highest standard, beers and non-alcoholic beverages. You can also request an afternoon refreshment from this beverage list or choose from the self-serve bar while spacious quartzite tabletops and leather banquette lounge seating provide the perfect spot for a conversation or game of cards.