Riverina Rail Tour
Enjoy stunning sea views, discover historic regional towns, sample superb local produce and experience sustainable farming practices on this Riverina adventure by Vintage Rail Journeys. Enjoy stunning sea views from the Illawarra Railway Line, explore historic Goulburn and taste artisan produce at the Coolamon Cheese Factory.
Discover the wonderous Emeri De Bortoli's Private Garden and quaint Blue Mountains Villages. Travel the historic rail lines of country Australia through this stunning region not open to the general public thereby giving you such a unique experience both off train and on board the Aurora Australis for a rail journey like no other.

The itinerary is designed so that we only travel during daylight hours. We don't want you to miss any of the spectacular scenery.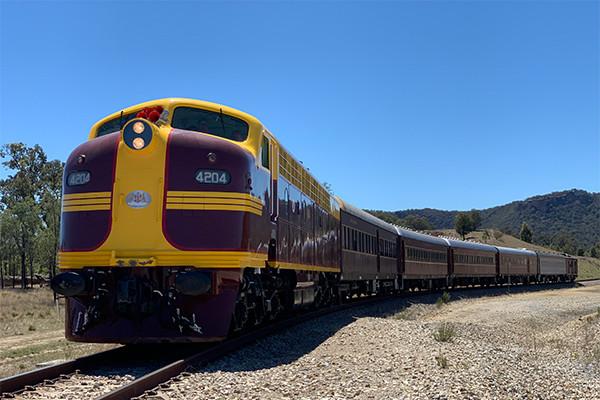 Riverina Rail Tour Departures & Packages
Itinerary

Day 1: Sydney - Moss Vale - Goulburn
Your Riverina adventure by Vintage Rail Journeys starts at Sydney's Central Station. Once on board the Aurora Australis, you can choose to sit in the lounge or dining cars, or your private cabin while we travel along the Illawarra Railway Line, through the Royal National Park and offering spectacular views of the South Coast to Wollongong. We then travel on a freight only line up the Illawarra escarpment, pausing at Summit Tank Railway Station, where you are provided with a rare opportunity to take photos of the stunning vista out to sea.
Lunch will be served onboard the train today, so that you can experience all that the Aurora Australis has to offer. We join the Main South Line at Moss Vale and continue to Goulburn where we depart the train and hop onto our private Aurora Explorer shuttle bus to explore the sights and historic offerings of Australia's oldest inland city. The train will be stabled for the night at Goulburn Station.

Subject to change due to circumstances beyond our control.

Day 2: Coolamon - Griffith
Enjoy breakfast on board as we leave Goulburn and continue along the Main South Line. We pass many interesting villages and towns today as we travel through the Canola Trail, so keep an eye out for the many grain silos adjacent to the rail line. Today we spend time in Coolamon, stopping at the Coolamon Railway Station dated 1881. Coolamon is named after the Wiradjuri word for a vessel carrying goods, children and water, "Gullaman" and this little town offers us a warm welcome.
Flanked by the Train Station at one end of the street and the Fire Station at the other, we have developed an afternoon experience of ambling the beautifully preserved heritage main street of Coolamon. A stop at the Coolamon Cheese Factory is a must for anyone who likes cheese or is interested in the cheese making process. The Up-To-Date Store, built in 1909 plays host to a variety of museum displays and collections. A stroll through this heritage listed building will bring back memories for some and offer interesting stories for others. The Coolamon Fire Museum hosts a truly amazing private collection of fire fighting equipment, uniforms and memorabilia. Along with heritage museums and buildings, the main street contains many local shops, restaurants and cafes, making this afternoon an unforgettable experience for all.

We will return to Coolamon Railway Station throughout the afternoon in preparation for a 3pm departure. We will travel along the Yanco to Griffith Line. Dinner will be served on-board the vintage train at Griffith Station, where we will be stabled for the night.

Subject to change due to circumstances beyond our control.

Day 3: Griffith - Temora
The Piccolo Family (owners of Limone Dining Restaurant) is hosting our breakfast this morning on their 20 acre farm just outside of Griffith. Using sustainable farming practices, all of their produce is harvested by hand and free of chemicals and pesticides. This is an excellent way to experience farming in Griffith as well as sample their delicious produce.
After breakfast we will enjoy the best that Griffith has to offer using our private Aurora Explorer shuttle bus. Explorer stops include the Griffith Regional Art Gallery, the Griffith War Memorial Museum, Emeri De Bortoli's Garden Il Compo, various wineries, providores and local shops so that you can experience Griffith's distinctive food and wine culture.

Lunch today is at your own choice and cost.

Your Aurora Explorer buses will return you to Griffith Station throughout the afternoon in preparation for a 3pm departure, travelling on the freight only Lake Cargellico Line. Dinner will be served on-board the train at Temora Station, where we will be stabled for the night.

Subject to change due to circumstances beyond our control.

Day 4: Temora - Parkes
Breakfast this morning is on board the Aurora Australis before experiencing Temora. Today you choose one of two Temora tours.
The Aurora Explorer Bus will take you directly to the Bundawarrah Centre which houses the Temora Rural Museum. Spend the morning experiencing the history of the region including a cottage of hardwood slabs that was Sir Donald Bradman's first home, a one room public school, bush church, country dance hall, printery, flour mill and ambulance station. The Ambulance Museum includes ambulance vehicles and conveyances dating back to 1897 and originating from throughout Australia, including NSW, ACT and Victoria.

The Temora Aviation Museum was built on the site of the biggest and longest lasting RAAF Elementary Flying Training School during World War II. Spend the morning in the three main exhibit buildings, the Museum which is in the original 10 EFTS Guardhouse; the second exhibition area, located in the Engineering Hangar overlooking the aircraft which are currently in maintenance; and the display hangar which houses the new exhibition area along with the aircraft.
Your Aurora Explorer buses will return you to Temora Station in preparation for a 12pm departure. Lunch will be served in the Dining Carriages as we travel on freight only lines via Stockinbingal. Dinner will be served on-board the train at Parkes where we will be stabled for the night.
Subject to change due to circumstances beyond our control.

Day 5: Katoomba - Sydney
Enjoy breakfast as we travel along the Broken Hill Line towards Orange and the Great Dividing Range. On through Lithgow and through the 10 tunnels that replaced the Lithgow Zig-Zag, then cross the Darling Causeway on the way to Mount Victoria.
Stopping at Mount Victoria, you will depart the train and board your Blue Mountains Explorer Bus, which gives you access to the 'Hop-on, Hop-off' service to explore the vibrant Blue Mountains Villages in your own time. Walk out to the edge at Echo Point, see the majestic Three Sisters. Take a 'Scenic World' ride (optional extra – tickets may be bought on the train). Check the waterfalls and the vibrant villages. Visit Everglades Historic House and Gardens. Leuralla Toy and Railway Museum is a must visit!

Lunch is at your own arrangements in the picturesque Blue Mountains villages.

At 4:00pm we will again board the train for our return to Central Station. You will have had a truly memorable Vintage Rail Journey!

Subject to change due to circumstances beyond our control.

History 1962-1993

The iconic Southern Aurora began traversing the tracks between Sydney and Melbourne in 1962 and quickly became a roaring success being the first train on the revamped passenger line to offer a luxury overnight service with First Class sleeping carriages. This meant it was no longer necessary to change trains at the border station of Albury from Victorian broad-gauge to NSW standard-gauge trains for both passengers and freight and provided daily departures in each direction.
There continued to be a high demand for berths until late in 1964 when jet aircraft were introduced between Melbourne and Sydney, therefore enticing many passengers to be lured by the excitement and speed of a new way to travel by plane. The progressive decline in demand continued throughout the 1970's until 1986 when the Southern Aurora amalgamated with the then Spirit of Progress to form both the Melbourne Express and Sydney Express.
These services remained until 1993 when it was then replaced by the XPT. Rail preservation groups kept most of the Southern Aurora carriages until 2017 when they were purchased by Vintage Rail Journeys and ready for a complete restoration and subsequent return to service as the Aurora Australis.
On board


The Aurora Australis by Vintage Rail Journeys boasts both Roomette (single use) and Twinette Cabins (2 to a cabin) that convert from day sitting lounge chairs to a night time bedding configuration with the Twinettes offering a lower and upper bunk for sleeping arrangements. Roomettes are located in the single compartment carriage offering a panoramic window to view all of the beautiful passing scenery plus a handy vanity to freshen up.
Shared ensuite and shower facilities are located at the end of each carriage and are serviced after every use. Twinettes feature seating for up to three people and a private ensuite with a shower, toilet and vanity with uplifting Kudos Spa amenities. Both cabin types are serviced daily with an evening turn down service. The vintage rail stops at night for added comfort while sleeping and you travel on rail lines not used for passenger service.
Further features include air conditioning, USB adapter power outlets, drinking water in every cabin, shelving and hanging closet, all bedding, a 30kg per person luggage allowance and access to a convenient galley in each carriage for self-service morning and afternoon tea and homemade biscuits.
Twinette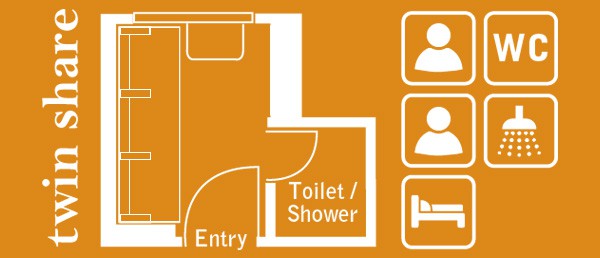 Roomette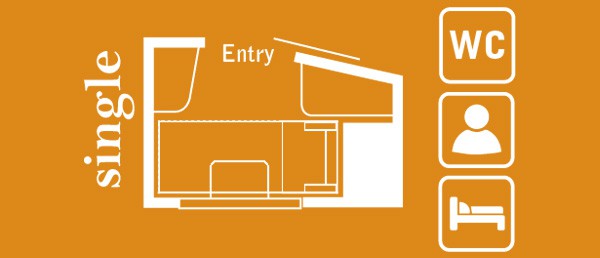 Lounge and Dining


The Aurora Australis by Vintage Rail Journeys offers an all-inclusive on board two-course dining experience with alcoholic beverages available at an additional cost to purchase for the tour duration. The Dining restaurant features a regionally inspired menu freshly prepared by on board chefs and in support of local producers where possible.
Each table is set as seating for four* with consideration given to your preferred seating time and seating with travel companions. The Vintage Rail Journeys Lounge Car has a specially developed bar menu for each tour and is perfect for a pre or post dinner drink and chat with your fellow travellers or perhaps to make lifelong friends.
The resident wine expert behind the bar can offer formal or informal wine tastings and help make your experience the best it can be. You can be involved in the enjoyable on board entertainment in the form of a quiz or scheduled experiences or perhaps just enjoy a book as the rugged countryside scenes go by.
More Experiences


On board the vintage rail it's the little things that make this experience even better. A daily newsletter outlining the upcoming day's events is a welcome added extra including visiting destination facts and information, handy reminders, advice and tips plus a convenient map (if applicable).
Each itinerary also gives you unique daily encounters during the exclusive Off-Train Experiences that give such a fantastic insight into the destination and its history with highlights including the Blue Mountain Villages, a 'Riverboat Postman' cruise on the Hawkesbury River, historic Goulburn and Emeri De Bortoli's Private Garden.